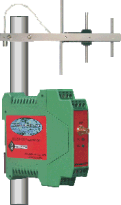 They're Back
Our DR9011 Transmitter is once again available and still provides the following inputs:
DC Voltage or DC Current dual analog inputs. The inputs can be mixed voltage and current.
RTD single analog - 3 wire, 100 ohm platinum.
Bridge single analog . The Bridge unit is provided with a precision 10V, 125mA excitation power supply.
All units have 4 discrete inputs (switch activated) utilizing optical isolators. The optical isolators can be driven with contacts, NPN transistors or N channel Mosfet transistors.
The transmitter is DIN rail mounted using steel mounting clips. All terminals are pluggable. A front panel cable connector allows for easy antenna connections.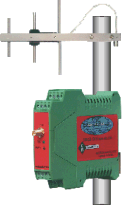 The DR9021 Receiver has two 4/20mA outputs and four NPN transistor optical isolator discrete outputs. When dual analog inputs are used on the Transmitter, each output on the Receiver is proportional to one of the inputs on the Transmitter. If only one analog input is used on the Transmitter, both outputs are proportional to the Transmitter single input.
Currently the only radio modules are available for the DR9011, is the 900 MHz band version with 7 Hop sequences (different frequencies). The new version of our 900 MHz wireless products are 100% compatable with previous versions. Our 2.4GHz band version with 7 Hop sequences will be available in the very near future. A DIP Switch on the PC board is used to set the Hop sequence. The radio module does not require a license for use.
Also available are our 900 MHz DR9031 Bi-Directional and our DR9050 and DR9051 Multipoint systems. More on these later.